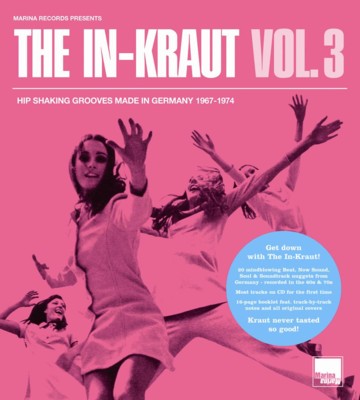 PRESSE TEXT VON

MARINA RECORDS

Release Date: May 9, 2008
THE IN-KRAUT VOL.3
HIP SHAKING GROOVES MADE IN GERMANY 1967-1974
Guten Tag! Three Is The Magic Number. Willkommen to the third and final installment of

THE IN-KRAUT

.
Once again we take a deep trip into the funky musical spheres of 1960s and 1970s Germany - an
undiscovered universe full of Hammond-heavy grooves, tight big band arrangements and fuzz guitar
enhanced dancefloor nuggets. Dip into a motherlode of 20 rare Soul, Beat, Now Sound, Mod, Jazz &
Soundtrack gems - most of them appearing for the first time on CD, finally destined to move the Kraut...
The In-Kraut Vol.3 kickstarts with the incredibly switched-on "Glory Be" by Daisy Clan, a great mod
stomper drenched in fuzz guitars and heavy percussion - masterminded by German music biz legends
Joachim Heider and Michael Holm. Wa-ouuh! The party continues with Bavarian groove agent Ambros
Seelos, a man who certainly knew how to cook up a groove and make you wanna shake your butt. Just
listen to his "Hangman's Rope" from 1972! Super-fantastisch!
IK3 naturally features a couple of cool and unique cover versions. Dieter Zimmermann tackles Led
Zeppelin's "Whole Lotta Love" orchestra-style - adding a whole lotta fresh new twists and turns to the
played-to-death rock classic. Inga, who later recorded as Inga Rumpf, rocks Sonny & Cher's "The Beat
Goes On" - full of deadpan icy vocals à la Nico. And Katja Ebstein - a lady who represented Germany at
the Eurovision Song Contest for an unprecedented three times (!) - delivers a great "druggy" take on The
Beatles's "A Hard Day's Night". Her sitar-laden cover sounds like the Fab Four may have treated their 1964
classic in 1969 themselves. Way out.
Speaking of "way out": Film music maestro Peter Thomas paints a crazy end-of-the-world scenario with the
hilarious "The World Is Gone". Musical and lyrical madness to the max. Apocalypse now! Hammond organ
god Ingfried Hoffmann appears with two knock-out groove nuggets: The Lonnie Smith-like "Stroke It",
and the supremely funky "That's Me Boy" by his late sixties outfit Memphis Black.
Trombone ace Peter Herbolzheimer strikes with his all-star killer big band Certain Lions & Tigers -
delivering a great, latin-flavored and most unusual version of "Fever". Rolf Kühn, one of Germany's most
distinguished jazz musicians ever, calms us down again with the deliciously chilled-out "Playmate", featuring
a great Fender Rhodes part, topped off by Claus Ogerman-like strings. Wunderbar!
We are also proud to present Georgees's super-rare soundtrack nugget "Butterflies Never Cry". Written by
long-time Hildegard Knef collaborator Kai Rautenberg, it sounds like something taken directly from the
score to "Barbarella" (1968). Yes, it's that good. The German Top Five are just as impressive. Their take on
rare groove classic "The Champ" - one of the most sampled tracks in hip hop history - is even more funky
than Alan Hawkshaw's original. Jawohl!
THE IN-KRAUT VOL.3 was assembled by Stefan Kassel and Frank Jastfelder who also compiled -
among other things - two acclaimed Lalo Schifrin anthologies, several volumes of Universal's GET EASY!
series, the "Mad Mad World Of Soundtracks" compilations, and retrospectives of the work of Dusty
Springfield, Gary McFarland, Sammy Davis Jr., Lee Hazlewood, Hildegard Knef and other cool cats. They
also edited the coffee table art book "The Album Cover Art Of Soundtracks".
Dankeschön & Auf Wiedersehen!