PRESSE MITTEILUNG VON ANAZITISI RECORDS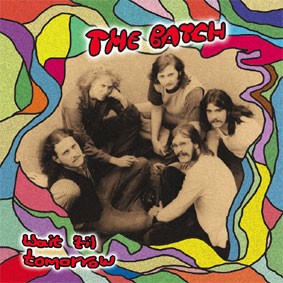 The
Minnesota music scene of the 60's was an exciting and vibrant time.
The Trashmen had had a #1 hit with "Surfin'Bird" and SOMA Records
also had several records making the Top Ten national charts.

There were other bands like The Underbeats and The Accents that
although not reaching the national charts
, had regional hits supported by
local Twin Cities' radio stations WDGY and KDWB.

It was in this nurturing atmosphere that the beginnings of
The Batch were born.

Barry Thomas Goldberg and Gary Paulak started their first band, "The Shambles",
as teenagers in 1966.

That year they had their first recording session at the legendary Dove Studios in

Bloomington
,
Minnesota
.
Peter Steinberg ("Flight Reaction", Calico Wall) and Dale Menten ("Run, Run, Run",
The Gestures), of Candy Floss Productions, were very impressed with
Goldberg and Paulak's writing talents and made them partners in the
original writing and producing team of Candy Floss Productions.
Candy Floss had many regional and national releases.

The Batch rose from the ashes of Candy Floss and consisted of Barry Thomas Goldberg, Gary Paulak, Arne Fogel,
Jay Lee and
Whip Lane
.

The Batch continued recording many hours worth of material in various Twin Cities' studios but only released
one single, "
Golden Sun/Hot Summer
Nights
" (Groove Soup, 1972; Unfortunately, only a handful of these 45s still exist).
The Batch called it quits
after years of being
on the road touring Mid-America. But these are the raw and vital recordings
of a band at the very moment of finding their freedom
and independence.
This special limited vinyl edition contains priceless rarities
for collectors of 60's and early 70's Mid-American Rock 'n' Roll.
Some months ago,
The Batch released 21 previously unreleased songs through their own HIJ/BECCA label
(which we proudly distribute in
Europe
)in a CD with the title "Transistor".
From all those songs we present now their more psychedelic efforts, in this
11-track limited vinyl edition.
All of the tracks recorded between 1968 and early 1970
and were home-recordings made on 2-tracks tape-recorders.
All of the included songs have been remastered and carefuly restored by the original master-tapes
(some also have the original song-length and different mixing) and have a much much better audible result
than the "Transistor" CD.
From the garage-pop tune of "Ha la la" to the mind-blowing psychedelic "Drifting",
from the acid underground sounds of "Wait 'til tomorrow"to the heavy "Untangle your mind" and from the
guitar-pyrotechnics of "Freedy Coolchick" to theDead-like "So sad",
this BATCH album is a must for every
psychohead and soon it will find its place between the lost
US
psychedelic jewels.

From the master tapes and fully licenced by the band. Includes a 4-pages insert with bio,
lyrics and
photos and a B/W reproduced poster.

High quality papers were used for the cover and insert.
PVC protective outersleeve.

180gr. vinyl as usual.
400 black and 100 coloured vinyl edition.
RECORD SAMPLES